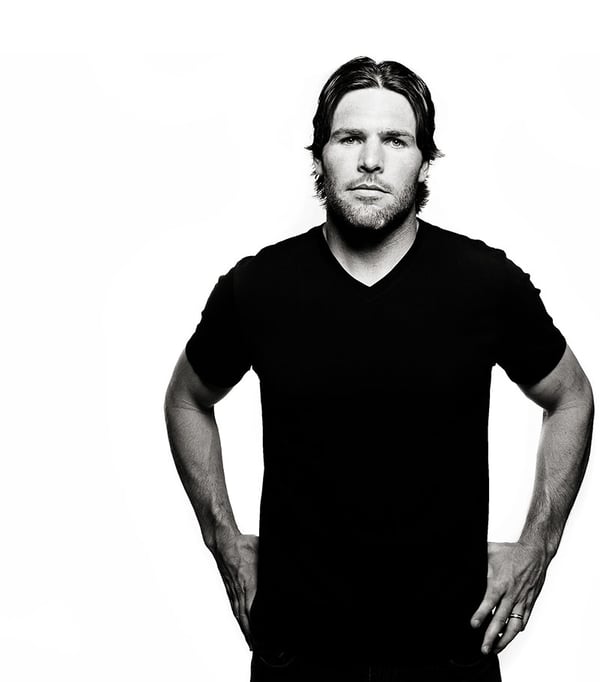 Nashville Predators–Mike Fisher

I'd get the question: "Hey, what do you want to be when you grow up?"
And it was: "An NHL hockey player".
That's all I wanted to do. I remember just the anticipation, I loved to compete.I loved the speed of it. I loved to score. I grew up in Peterborough, Ontario. Peterborough was a hockey town, so it was filled with hockey rinks. I tried balancing that with school and church and family.
Hockey is stats-related, performance-based sport. I think that carried over as a kid into just trying to be a good kid. At six years old, I was about to go to school and I asked my mom if I could ask the Lord into my heart. I still remember where I'm on my knees and prayed with my mom.
---
I make it to the NHL. I'm making a great salary. I made my childhood dream. Everything was great on the exterior, but in the interior, not good at all.
---
I left home at seventeen. I was drafted into the Ontario Hockey League, so I went away at seventeen and left family and friends, and the security of home and church. I was playing with 16, 17, 18, 19, 20 year-olds and I struggled. I was trying too much to fit in. I was focusing for so long on what I can't do. I can't swear, can't drink, can't have sex. I can't do all these things. And meanwhile, inside, I'm not focusing on that relationship with God. Hockey took over.
At nineteen, I make it to the NHL. I'm making a great salary. That's it. I made it. I made my childhood dream and everything was great on the exterior, but in the interior, not good at all. I remember signing my first contract. I was nineteen years old. It's kind of a little bit unbelievable. That's every kid's dream, to sign a contract, and I remember going out that night to a bar, gettin' drunk, making a bad decision, and waking up the next morning and feeling like the worst piece of crap that I could ever felt like.
There was a lot of inside feelings of a lot of different things. I was letting people down. I was letting God down. I was trying to hide, trying to pretend like everything was great. Still go to church, but maybe be hung-over. Not really into it, but just putting up a facade. When I did a Bible study with my cousin, who I was living with at the time, at the age of about 22, I get to a scripture, Luke 9: 23-25, and it says:
---
"If you want to be a follower of me, you have to put aside your own selfish desires, shoulder your cross daily and follow me. If you try to keep your life for yourself, you will lose it, but if you give up your life for me, you will find true life. What do you benefit if you gain the whole world, but lose your own soul in the process?"
---
I remember that scripture just hitting me, that was for me. I'd reached my dreams. I had money and everything. I thought I was cool and it just wasn't working. I knew where the answer was, but I hadn't been looking for it in the right places. Through a process of just praying and getting in the Word with my cousin my life was changed. For the first time, I remember thinking: "Man, this is really real."
It wasn't because of my parents. It wasn't because I was supposed to be in church. It became real to me. It didn't happen overnight, but slowly God changed me on the inside. I started to not worry about the dollars, but just focus on just pursuing him. And slowly, God started to just bring up stuff. I started to confess things in my life that I wasn't proud of. God just kind of released that. It wasn't religion anymore, it was a real relationship and it was awesome.
Game day, I start to get goose bumps, thankful to be able to do what I love to do. I fail, definitely. I'm on the back end of my career. I'm a guy that's kind of not very patient at times, and I'm a slow healer. But I finally figured out that it wasn't just about performing. It was about just accepting his love in spite of our failures and our mistakes. That love of the Father is unconditional, and that's a pretty good feeling to know how much he loves me.
My name is Mike Fisher, and I Am Second.
Mike Fisher is a recipient of the NHL Foundation Player Award, recognizing commitment, perseverance, and teamwork on and off the ice. He has played in the NHL since 1999 with the Ottawa Senators and then in 2011 with the Nashville Predators. In 2016, he was named captain and is currently playing for the Stanley Cup against the Pittsburgh Penguins.
---
More Feature Stories
Chris Plekenpol: God must have taken a vacation because there's no way He can be present in a situation like this. That was Chris's rationale after being deployed to Iraq where no day, hour or minute was certain.
Josh Turner: God inspired me to write "Long Black Train." I wrote this song, by myself, in my apartment, and it came to me in a vision. It's a vision of this long, black, beautiful, shiny train, and people are standing out to the sides of the track, watching this train go by, just craving to get on it.