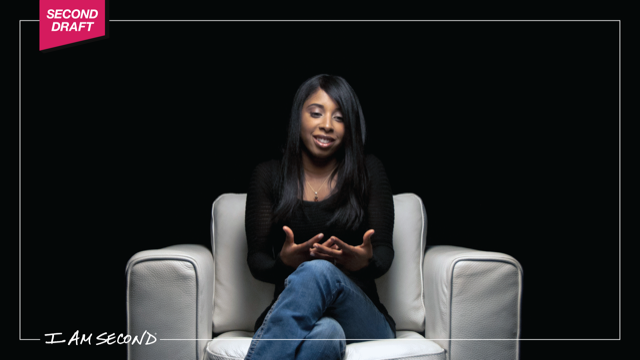 Dominican singer-songwriter Lilly Goodman didn't always want to perform. She preferred to stay out of the spotlight. She didn't think her voice was anything special or unique. She thought, other people want to sing, let them sing. What do I have to give? But, her mother helped her see things a different way.
"[My mom] would always say, "...God has a special purpose for you. And every time you sing, people receive something special. Don't you see how people cry? Don't you see how people feel?"
We're with Lilly's mom on this. Music is powerful. It tells stories that become part of our own. We live in a time when so much incredible music is available to us from artists all over the world whose perspectives and experiences are as nuanced and distinct as themselves. When we connect with that music it tells us something not only about the artists who made it but also about ourselves because the things we love say something about who we are. So, when we hear a song that inspires us, challenges us, or makes us think in a new way, we pay attention.
Here's five songs that we've been listening to this month that got us thinking about life, faith, and who we want to be...
Alright - Anthony Ramos, Cynthia Erivo
"Come and put your hand on my shoulder
If you walk alone it'll feel so much longer
I know I can't promise tomorrow it'll be over
But I know together we can be so much stronger."
There are certain songs that you want to put on first thing in the morning to start the day on a good note. This feel-good track from multi-talented performers Anthony Ramos and Cynthia Erivo is exactly that kind of song. Just humming the first few lines helps us breathe a little easier and reminds us that we are not in this life alone.
"The love that we keep is the shelter we find."
It's hard not to be excited about brand new music from Johnnyswim. We've been using Bridges, the first single from this husband and wife duo's upcoming album, as inspiration to pursue the things that really matter to us with clear vision, and face the challenges in our way with grace and truth.
"If we're caught in a wave, I will carry you over
It don't matter where were we are
You're still the one I choose
When my head goes in different directions
You know my heart's never on the move
And in the dark times you don't have to question
If I'm a hundred with you."
We've had this layered, soulful collaboration between Martin Garrix and Khalid on repeat because in a time when it feels like hatred, bitterness and discouragement are all around us, there can never be too many reminders of just how wide and high and deep real love can be, and that God, the source of love, is with us all the time.
Paradise - William Matthews, Lauren Evans
"Here every treasure will rest
In a house made of dust
There's a kingdom inside me
Now I have tasted and seen
And my heart has believed
You will lead me to glory."
Sometimes life can be a lot. Sometimes it can feel like we're in the middle of a perfect storm of busy-ness, pressure, and challenge. This gorgeous, peaceful track from William Matthews and award-winning songwriter Lauren Evans helps us take a second to put all of the things wreaking havoc on our day into perspective.
Joy - Lilly Goodman (ft. Funky)
"Mi dicha y mi tranquilidad
No dependerá de nadie más
Tomo la decisión de no escuchar
Lo que me quiera derrumbar
En Cristo tengo mi Libertad
This is my Joy, Joy
Y nadie me lo va a quitar
I'm living free, free
God is moving on my side."
Lilly Goodman never fails to deliver amazing vocals and thoughtful lyrics about her life of faith. Her most recent album, Comienza a Vivir, is no exception. Joy, a high-energy, bilingual track featuring rapper-songwriter Funky, is the perfect song for a mid-afternoon dance break to give the rest of our day a boost.
Want more of Lilly? You can watch her full film with I Am Second here.
All of these songs can be heard on the I Am Second playlists. Follow us on Spotify to hear more of the music we're loving, and let us know what you're listening to that we should add to our rotation.
Previously on Second Draft:
ESPN's Maria Taylor on the Thing That Defines Her
Three Seconds: Baron Batch, Christine Petric, and Gabe Salazar on Identity
David and Tamela Mann's Advice for a Strong Marriage on 'Good Morning America'