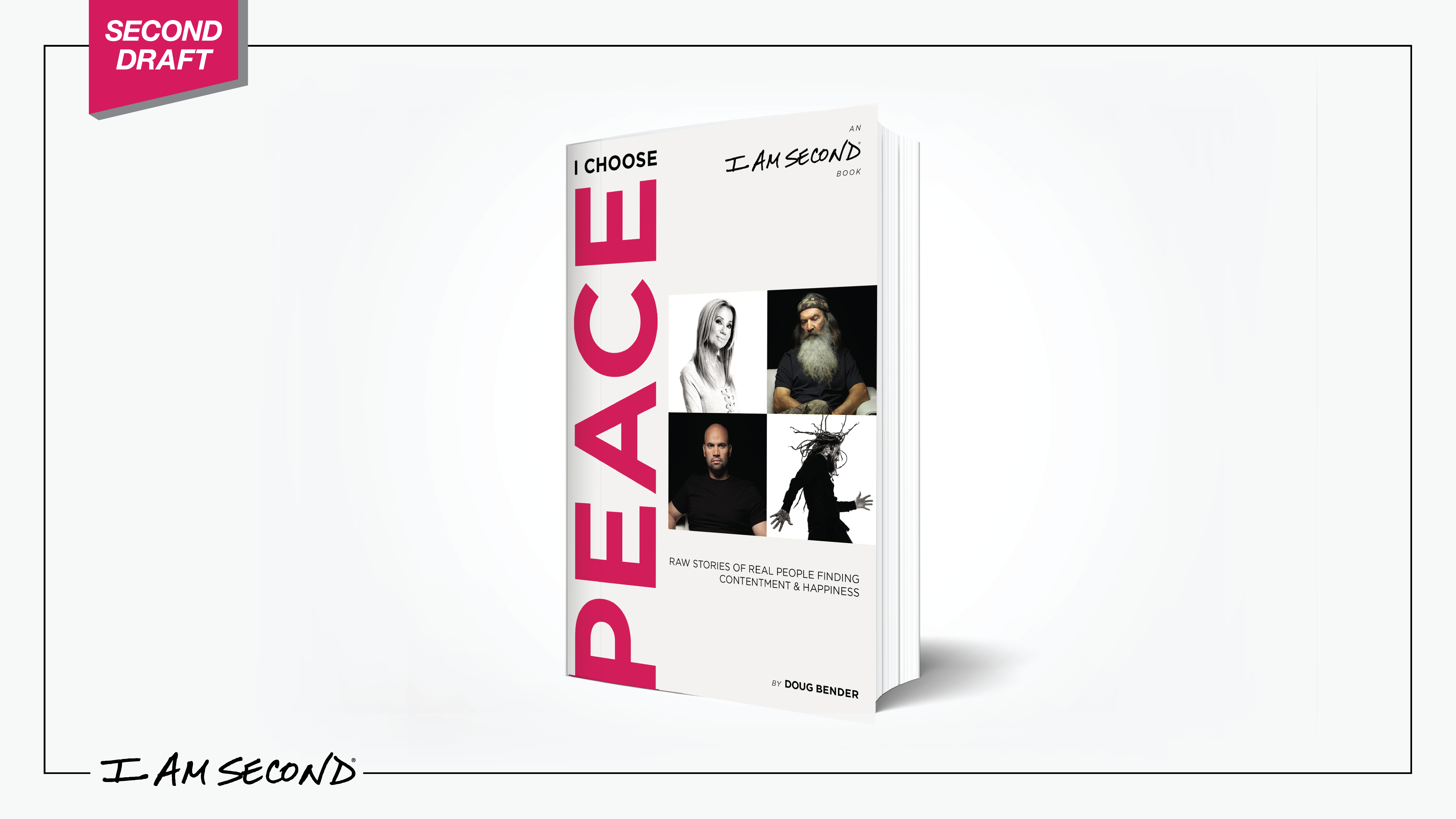 Peace.
We are all looking for it.
We all need it.
Yet for many, it remains just out of reach. Restless, discontent, lacking in purpose and direction, we feel its absence. But peace can be found. You can choose peace.
Today, we announce the newest book from I Am Second and author Doug Bender, I Choose Peace: Raw Stories of Real People Finding Contentment and Happiness. This book tells the stories of people who searched everywhere for fulfillment and wholeness but found it only when they put Jesus first in their lives. Those who found contentment, happiness, and peace, in the face of every kind of struggle include:
Chip and Joanna Gaines, hosts of HGTV's Fixer Upper
Kathie Lee Gifford, TV personality
Albert Pujols, Major League Baseball all-star
Shawn Johnson, Olympic gymnast
Phil and Kay Robertson, stars of A&E's Duck Dynasty
Brian "Head" Welch, Korn lead guitarist
Lee Yih, businessman
Ben King, professional cyclist
Eric Metaxas, author and speaker
R.A. Dickey, Major League Baseball pitcher and Cy Young Award winner
Jason "Propaganda" Petty, hip-hop artist, activist
Lauren Scruggs Kennedy, lifestyle blogger
Austin Carlile, former lead vocalist for Of Mice & Men
Lynsi Snyder, owner of In-N-Out Burger
Cody Garbrandt, mixed-martial-arts champion
Raw, compelling, and profoundly inspiring, the stories in I Choose Peace remind us that no matter your struggle, what you've done, or what's been done to you, you can still choose peace.
You can pre-order your copy at www.IChoosePeaceBook.com. As a special reward for your pre-order you will also get:
Group Discussion Guide only available when you pre-order
28 free days from the hit daily reader, Live Second: 365 Ways to Make Jesus First
3 advanced chapters from I Choose Peace before anyone else
Do you have a small group, church group, or book club looking for your next read? Be sure to pre-order the book today and get the exclusive Group Discussion Guide available only to those who order the book early.
Go to www.IChoosePeaceBook.com to pre-order your copy today!
Some praise for I Choose Peace:
"I Am Second provides an honest look at how others have found peace in their lives through a relationship with Christ. The stories each person shares reflect real life struggles we can allrelate to and how each found their encouragement in Christ."
JOE GIBBS, Pro Football Hall of Fame coach, NASCAR Hall of Fame owner
"I Choose Peace reminds me that peace only comes from the Peace Maker and that always to be thankful and loving to my neighbors is the path to peace."
MICHAEL TAIT, Newsboys lead singer
"Everything I Am Second does is for one goal—to inspire people to put Jesus first. I Choose Peace does just that, and I can't recommend it enough."
ANNIE LOBERT, founder of Hookers For Jesus and Destiny House
"For the past ten years, I Am Second has used powerful storytelling through film to show individuals from all walks of life putting Jesus first. In the same vein, I Am Second's newest book, I Choose Peace, has the opportunity to further inspire and help readers discover thetrue secret to fulfillment and wholeness is found in God."
STEVE GREEN, president of Hobby Lobby Stores, Inc., founder and chairman of the board of Museum of the Bible.
"In a world where peace seems ever elusive, this book is a needed reminder that true peace, God's peace, is a gracious provision constantly available to believers. The stories shared in this book reveal the honest struggles, pain, hardships, and difficulties many of us have experienced in life. However, you cannot read the book without leaving with a sense of profound hope. The peace of God discovered in these stories is God's provision available to you and me. But in this book, you will discover that true peace cannot be found apart from God. A true and lasting peace can only come when you belong to Him."
NATHAN N. HOFF, assistant professor of Bible Exposition, Dallas Theological Seminary