"We just invited people to come and join us and share their story...we also had opportunities to share the love of Jesus and who he is and who he wants to be in people's lives."

Nine people. Seven weeks. One tent. This summer we hit the road with the final Vans Warped Tour to set up a tent and welcome anyone who wanted to come, sit and share their story with us. Starting in California, the I Am Second team boarded a bus, hauled equipment, and sat down with bands and artists, Warped Tour founder Kevin Lyman, and most importantly, you.
To I Am Second's program manager, Melanie Tomczak, having a tent on the Warped Tour seemed like a crazy plan. "Living life with nine other people in a small confined space...terrified me. But, within the first number of days as we set up our I Am Second tent and as people began pouring in – young, old, parents, teenagers, all walks of life – as they began to trust us with their stories...we invited God to come in and to do what he does best, which is to simply give us eyes of unconditional love."
Each day, in every city our team visited, people came to the I Am Second tent with stories as diverse and unique as they were. Some spoke them out loud. Some wrote them down and put them up next to words written on our wall. Words like depression, anxiety, bullying, suicide, hope, life, courage, grace.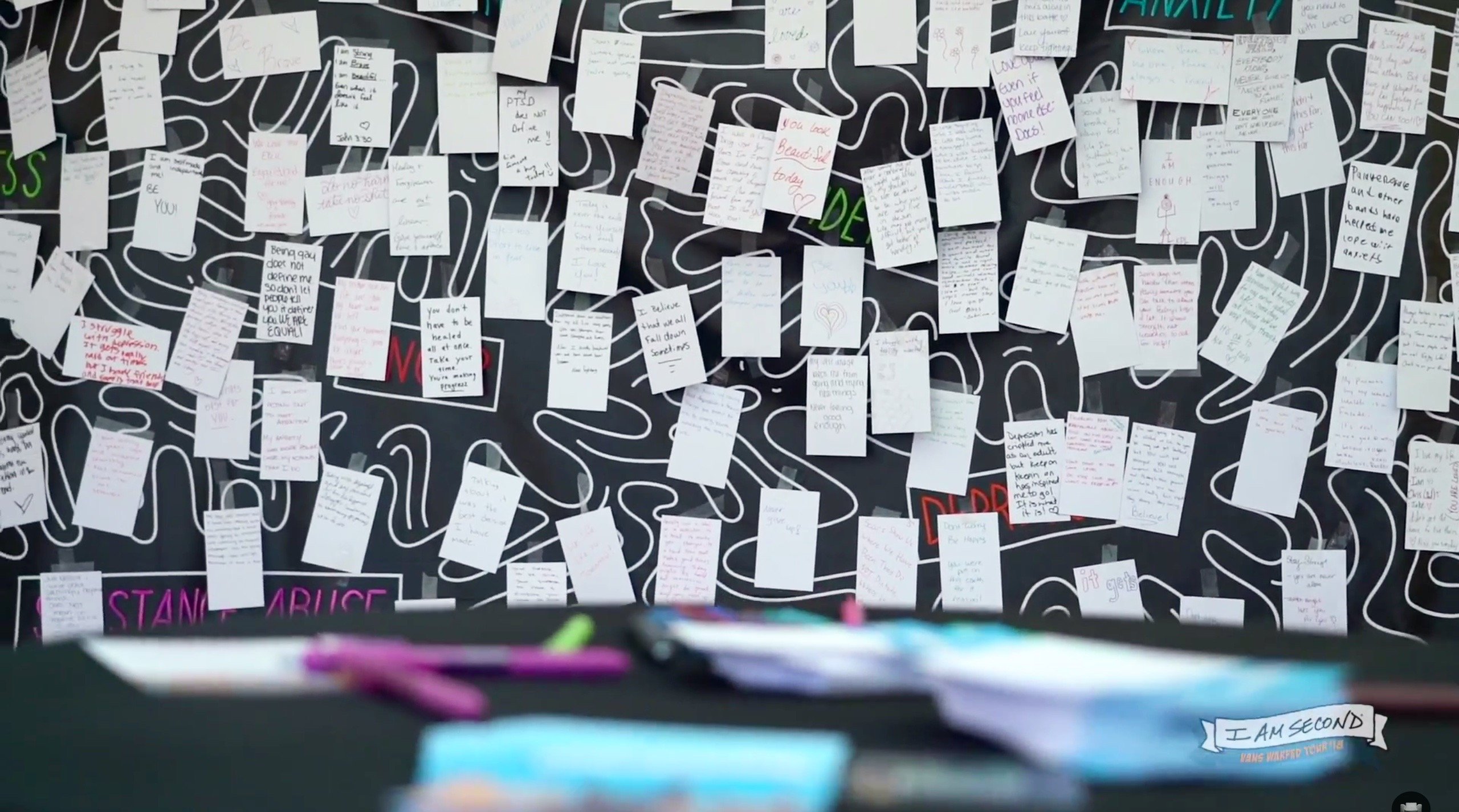 "I struggle with PTSD from a variety of events that are and were out of my control. [It] made me feel worthless," one person wrote. "Living is worth it. Finally finding peace with myself. You are not worthless."

"I was bullied and all that pressure, all that anguish led me to have suicidal thoughts," one man told us. "The only comfort, the only solace I could find was calling on the name of Jesus, and just calling on his name gave me instant peace that led me to be able to fall asleep and go on for the next day."
"I've gone to the deepest lows where you feel so broken," a young woman told us. "You feel like you'll never be fixed, there's nothing that will ever be able to help you...you have so much strength inside that you don't even know you have."
We had an incredible seven weeks with the Warped Tour, and it was our privilege to do this work – the work of showing up, of seeing and listening, of bearing witness to people's stories of pain, triumph, struggle and survival, and responding with God's love and grace.
You can watch ALL the vlogs of our time on the final Vans Warped Tour including the stories of some amazing people we met along the way in their own words. Check out our playlist on I Am Second's YouTube channel.