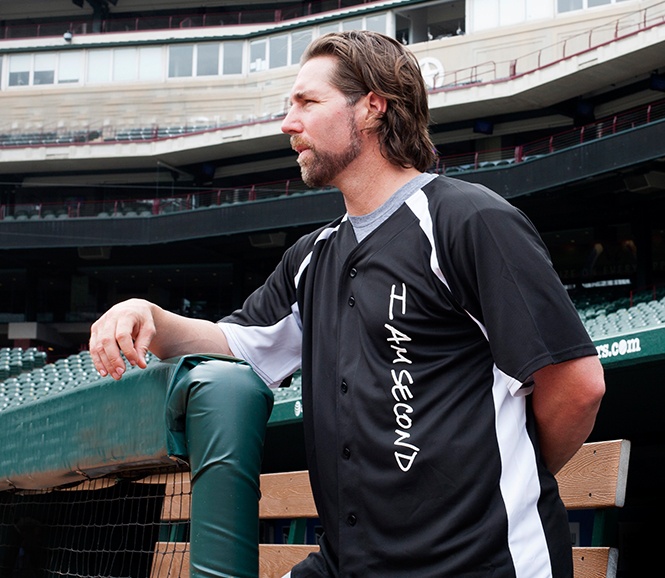 Knuckleball - it's a baseball tradition. But the personalities and approach of the knuckleball pitchers themselves tend to be unqiue. Like kickers in football, their approach to the game has to be less traditional in order to do their job. A knuckleball, which is thrown with the fingertips/fingernails and lazily heads to plate with no spin, is the exact opposite of what most pitchers strive to achieve. But for RA Dickey, being different has been the thing that's made him a game changer.
As the reigning National League Cy Young Award winner and the only current knuckleball pitcher in the major leagues, RA Dickey is in the spotlight every game he pitches. A believer in Jesus, he publically proclaims his faith and is always ready to speak out, which he has done in a variety of ways over the last few years. From writing books, to media interviews, to participating in causes, the Nashville native integrates his faith story into everything he does - something not a lot of professional athletes strive to do.
A Nashville native, RA was introduced to I am Second this year and is part of I am Second's July baseball emphasis. Why focus on baseball in July? First, it is one of the few times of the year when the sport is solely in the limelight. Secondly, with the baseball All-Star Game (July 16th) broadcast worldwide, players like RA have a platform to share their story with those who may be hard to reach. While some of us may not have the limelight RA Dickey has to tell his story, we are all still different when we live Second. We approach speaking about Jesus differently. We wear the gear to start spiritual conversations in a different way. We let our actions of putting God first be an example to others, simply so they can understand that accepting Second changes everything. And through all of this, even without limelight, we prove as a movement that being different is sometimes the best approach. Can you relate to that?
RA's story of reaching major league stardom is filled with high moments, setbacks, personal tragedy and triumph, and finally being comfortable with his identity as a player and in Jesus. Later this month you'll be able to watch his story and be inspired from his journey. Share it with others to start conversations wherever your are.
Keep standing out. This month you can get 10 free wristbands with $30 purchase, or even a free T-shirt with a $30 purchase. All it takes is one person willing to approach something differently to make a difference!
Visit the iamsecondstore and get geared up for July
10 free wristbands with a $30 purchase: I am Second code 5614, Yo Soy Segundo code 5615, and white I am Second code 5616

Free T-shirt with purchase of $30 or more: I am Second t-shirt code 5617 , Yo Soy Segundo t-shirt code 5618