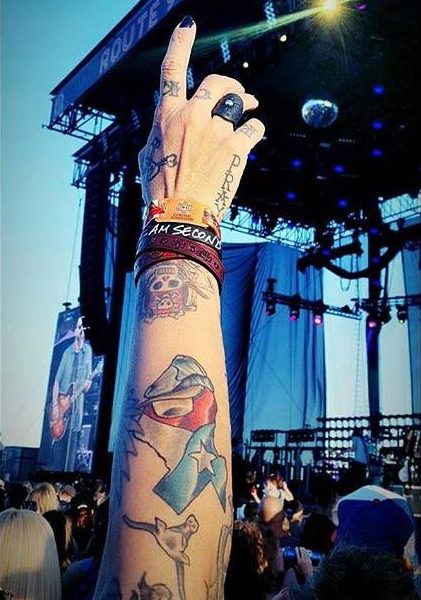 Everyone has a story.
This summer we went across America with Warped Tour to hear people's stories. Some were dark, others giddy and humorous, and, some, made us cry. At the end of each day, we'd gather up and share what we heard. These are the beautiful, broken, human stories we came to hear, each told in the words of our volunteers themselves.
After a bright and early start to the day, our tent slowly filled. One girl stood out among the rest with her edgy hair style, studded vest, and extreme interest in who we were. We started talking while her phone charged and she introduced herself. She dove into her story of how she is a singer, and desires to be on stage to use the gift God gave her but she is constantly verbally and emotionally abused by her band mates. She also talked about how she is crushed by fear most of the time. Her passion and heart simply shone through her words when she was speaking about the deep desire to overcome those fears. We wrapped up the moment with heavy prayer, which ended in tears.
I really had a great conversation with three girls that came to sit in the shade. One girl instantly started getting upset while talking about churches that have hated her for being homosexual. I got the chance to tell her that although humans are humans God loves her no matter what, that Jesus loves her, and is chasing after her heart. With all three girls I really got to show the side of real love and talk about that, instead of focusing on what they can and can't do or what other Christians think of them. I truly believed they all walked away with a different view on God. They all accepted a Bible and I told them to seek the truth themselves.
Last year, I spoke to two girls. One had just had her wisdom teeth pulled the day before and the other was struggling with suicidal thoughts. They came in again today and I recognized their faces, instantly. The girl that had been suicidal asked me if I remembered her. She told me that last year I told her she had to promise me I would see her this year, that she couldn't be suicidal because we would see each other next year. Well she told me that the moment the gates opened for Warped Tour and she got in she had to run straight to our tent and tell me that she kept that promise.
I sat down with one guy and it turns out we have very similar backgrounds. We both came from a broken family, dealing with a depressed, dysfunctional mom, etc. One conversation lead to another and before I knew it, I realized I had been talking with him for over an hour and a half. Our conversations consisted of various topics that revolve around faith and God. He does not follow Jesus, but he wasn't completely closed off to the idea. I shared my faith and how I began following Jesus.

The thing that struck him the most is that even though I do believe in Jesus, I am in desperate need of God's love and mercy, every single day. I was brutal and honest about my hurt, pain, and hardships and how the only thing that keeps me going is God's grace. He then told me something that was super unexpected, but so uplifting, "Next time you feel low, or inadequate about something, you should know that everything you just told me changed my perspective on following Jesus. Thank you for that."
This one young woman came with a group of friends but kept coming back throughout the day. At one point, she asked me if I could help her make a dream come true. I said that I'd try my best and she asked if she could use the megaphone. I told her I could indeed make her dream come true. She grinned and grabbed that megaphone and continued to tell everyone that walked by our tent how beautiful they were and that they were worth it. It was so sweet and encouraging. I never thought to do and just speak life into those walking by even if they don't stop in the tent.

I met with a girl, today. She walked into the tent and started charging her phone and she grabbed one of the Bibles off the table and sat down. I came up to her and asked to sit with her and visit. I asked her why she grabbed the Bible and she told me she thinks it's time she gave it a shot, that she needs it. I found out she had been raised Catholic and was forced into a lot of religion as a kid and walked away from it when she was a teen. But, now, she is sitting in our tent. We talked about her thoughts on God and I got to share the good news of Jesus in a new way to her. I shared my story and why I am where I am in life because of God. She said she just really wanted to read it and see if anything changes her.
My friend came to the tent and he was in a great deal of turmoil. Throughout the course of the day, he would come and go, but he came back with five minutes to close. I told him he was coming to our bus with us so that we could pray over him. At the beginning of this tour, we had prayed that our home would be a sanctuary for everyone on this tour. And when he got on the bandwagon, he immediately felt safe and opened up about every struggle he was facing. It led to a beautiful moment of relief, healing, and love for him.
One girl, in particular, is someone who I have been building a relationship with over the past four years on tour. Just the other day, she had opened up about having multiple surgeries as a child and how she was meant to be in a wheelchair. I asked her to share her story with another person in our tent. When she did, she did not share what I thought she was going to. She actually broke down and began crying. And she shared something that happened to her in her past that she had never had the courage to tell anyone. She shared what had happened to her as a 15-year-old and we were able to speak life, healing, and encouragement over her through Jesus. We ended up praying with her, and, at the end of the prayer, she shouted out the name of Jesus.

I got to speak with a young man who had recently lost his grandmother and another family member. These were his first experiences with death. He said he believed in a higher power but didn't know who or what it was. For a young man, he was very bright and open, but extremely broken from the experience of his loved one's deaths. It opened a large conversation about God's love and the afterlife. He ended up accepting a Bible from me and said he really wanted to read it and find out for himself.
What's your story? Maybe you've found what you're looking. Maybe, you're still on the path or not sure which path to even take. Wherever you are, your journey is a story worth telling. Comment below and share your story. You'll be surprised at how many people are on the path with you.
[gravityform id="18" title="true" description="true"]